Discover more from enJOY
A daily practice in fostering the good stuff
Welcome to enJOY, I am so glad you're here.
One of the best ways you can support this space is by sharing it with other people. Feel free to pass along this entry—or any other—to those who might appreciate it.
I think we could all use a little more good stuff in our lives these days, don't you?

---

This time of year I have what I call my Persimmon Protocol.
Persimmons, if you are unfamiliar with the fruit, are only available in autumn. While most produce can now be bought year round—either shipped from far-off destinations or grown in a heated greenhouse (with negative environmental impacts to both methods), persimmons remain a seasonal offering. When the bins of my neighborhood produce market fill up with the squat orange globes again, I know it is fall.
Persimmon trees were a popular sight when I lived in Asia, and a beautiful one. Once the leaves fell from the trees, the bright fruit looked like tiny hanging lanterns. If they weren't picked before first snowfall, each wore an adorable little cap of snow.
Now, every year I buy a big bag of persimmons. When I get home I line them up on the kitchen windowsill, in descending order of ripeness. For the next month or so I will eat one almost every day, carefully peeling the wedges, the sweet flesh almost melting in my mouth.

I stop to savor each persimmon—because I know when they are done it will be another year before I see them again. Each seems more precious due to their fleeting nature.
Would I enjoy persimmons as much if they were available year round? I've wondered this often. I don't think I would.
It's not just persimmons I do this with.
My favorite ice cream is made in a small town along the Hood Canal in Washington—discovered on a road trip some years ago. The company wants to stay small, so they sell mostly to restaurants and don't have wide distribution. It is a treat enjoyed rarely, only on summer camping trips, and is forever tied to some of my favorite memories.

Is it technically the best ice cream in the world? Unlikely—but it is the ice cream I look forward to all year and will savor joyfully next time I get to taste it. Could I figure a way to get it more frequently? Probably. But I've decided to keep it a special treat, tied forever to time and place
One of the problems we face these days is that things have become too accessible. The candy I used to love in Japan is now available at my local convenience store and I don't even get excited about it anymore. This formerly rare treat has become part of the landscape.
Think of all the regional or seasonal specialties that used to be available only in a certain place or at a certain time. But now you can ship a muffuletta sandwich from New Orleans to your doorstep, a Philly cheesesteak, or a Maine lobster roll (with the associated toll on environment and workers). I'm convinced this near-instant wish fulfillment means we lessen both anticipation and appreciation.

When you can have anything you want all the time, is it special anymore?
I'm being intentional about keeping some things special. I don't buy fresh tomatoes in winter (they taste sad), I keep strawberries for June—and I enjoy both of these so much more for it. I line up my persimmons each autumn and feel rich at the bounty. And by the end of the month I have enjoyed them so fully I am fine to say goodbye for another year. It's a practice of appreciation, of being in the moment.
[This may sound boujie, but it's also a good way to reduce your carbon footprint.]
Autumn feels like the season to be in the moment—each day more leaves fall, more flowers fade, the light grows dimmer. I am trying to notice and appreciate it all, and not rush by. Taking notice means I am wandering around saying (mostly to myself): Isn't this BEAUTIFUL.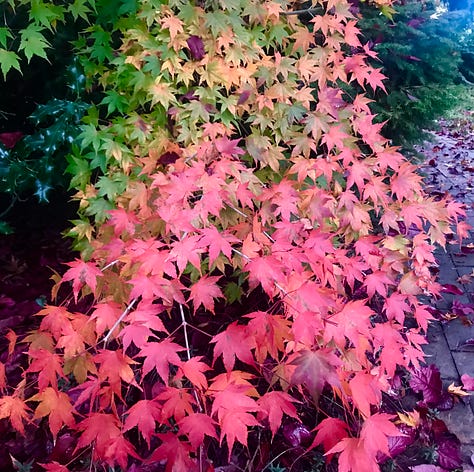 How do I do this? Mostly I take walks (I have a dog, after all). This time of year I don't want to miss a day—soon a storm is going to come through and strip all the last leaves. So I walk in the rain, I walk down different streets each day, I revisit favorite trees to see how they are doing. Sometimes I just stop to stare up in wonder. It takes only time (which, admittedly, not everyone has).

My friend Roxanna has been immersing herself in autumn walks as well, and even made a playlist for it. You can find it on her newsletter, if you'd like to take a look. I've been enjoying listening to her selection as I walk and marvel.
So, please tell me: are there things you try to keep special? Certain joys associated with time, person or place? I'm curious if others do this as well.

And what are your autumn pleasures? Besides persimmons, I am diving into my tea collection, making soup again, thinking about crafts to do this winter and what I might want to make for the holidays. I'm getting ready for snuggle season. As the world feels distressing and out of control, these small rituals are fueling me onward.
I hope you are finding the season's pleasures as well ❤️


[And, as always, if you have the means to help, I am a huge admirer of World Central Kitchen and their mission to feed people in crisis zones everywhere. They've served more than one million meals in the Middle East this past month. While I firmly believe we need pleasure and joy to get us through, it feels uncomfortable talking only about such things when so many are in precarious positions. For me it's never either/or—I'm Team Both. Rooting for us all, always. ]
Thank you for reading enJOY, I'm grateful for your presence here. To receive weekly installments, please become a paid monthly or annual subscriber.